Wooden Puzzle Inspiring Unicorn
1
Spend your time with your loved ones
Our puzzle is a good occasion to bring all the family and friends together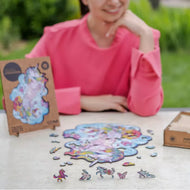 2
It is time to forget the daily routine!
Psychologists recommend puzzles for meditation and stress relief
3
Try something new
Unidragon puzzles have the most unique shape and design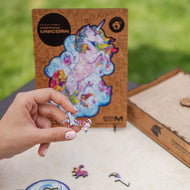 4
Challenge yourself
Puzzles work out your brain and strengthen your mind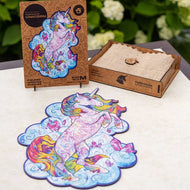 frequently asked questions
How does the size of the pieces differ for the puzzle sizes – S, M, KS, RS?
How long does each size puzzle take to assemble?
Who are the puzzles suitable for?
What do I do with completed puzzles?
Custom Taxes
WILL I HAVE TO PAY INTERNATIONAL TAXES & DUTIES?
Your order may be subject to import duties and taxes, which are levied once a shipment reaches your country. The general amount for the duties and taxes fee is about 15 % of the dollar amount of the merchandise. However, this is just a general guideline and may vary depending on the country to which the order was shipped. You should contact your customs office for specific amounts and percentages.
Unidragon cannot control and is not responsible for any duties/taxes applied to your package. You will be responsible for paying additional charges for customs clearance. Customs policies vary widely from country to country; please contact your local customs office for further information. Note, in rare occasions custom agents may delay delivery of some packages.
PLEASE PAY ATTENTION: Due to big dimensions of the package you will pay customs and import taxes. The amount of taxes depends on your country's laws. We are not responsible for them.